Palestine in Pictures: February 2021
By The Electronic Intifada, March 2, 2021
During the month of February, an Israeli settler shot and killed a Palestinian at an outpost built on land belonging to Ras Karkar, the central West Bank town where the slain man was from.
The Israeli military claimed that Khaled Nufal, 24, was shot after attempting to break into the home of Eitan Ze'ev in the early hours of 5 February.
The incident was quickly called a "terror attack" by Israel's military, apparently relying solely on the settlers' accounts, though Nufal was unarmed. No criminal investigation was launched, Israeli media reported.
Tor Wennesland, the UN's Middle East peace envoy, called on Israel to "conduct a thorough investigation into the circumstances of the incident."
Human rights groups have long dismissed Israel's self-investigation system as a "fig leaf for the occupation."
Nufal was the fourth Palestinian shot and killed by Israeli soldiers and settlers in the West Bank so far this year.
Also in the West Bank during February, two Palestinian men were killed after being struck by cars driven by Israelis. Another Palestinian man was killed by unexploded ordnance in Nuba, a village near the city of Hebron.
West Bank demolitions
Israeli forces demolished or razed dozens of structures in the Jordan Valley community of Khirbet Humsa on multiple occasions during February.
Tents provided as humanitarian aid after the village was razed in November last year were among the items seized. So were food parcels and water tanks.
So far this year, Israeli forces demolished or seized at least 227 Palestinian-owned structures in the West Bank, nearly 100 of them donor-funded. Nearly 370 Palestinians, more than half of them children, have been displaced despite the COVID-19 pandemic.
Gaza fishing boat sunk
Israel's navy sunk or severely damaged fishing boats off of Gaza's coast on at least two occasions during February. Israeli occupation forces opened "warning fire" near Gaza's eastern boundary or off its coast on at least 28 occasions in the first half of the month.
Israel also leveled land inside Gaza at least three times in February.
Egypt reopened Rafah crossing, the sole point of exit and entry for the vast majority of the two million Palestinians living in Gaza. The crossing had been closed for more than two months.
COVID-19 spikes in West Bank
The number of new COVID-19 cases in the West Bank increased significantly at the close of February, indicating "a potential further surge of cases," the World Health Organization reported.
Israel has rejected the consensus among human rights groups that it is obligated under international law to provide vaccinations to Palestinians living under its military occupation in the West Bank and Gaza Strip.
While Israel has vaccinated more than a third of its population, the 5.2 million stateless Palestinians living under its military rule had only received 32,000 doses by late February.
Israel delayed the transfer of the first COVID-19 vaccines secured by the Palestinian Authority for front-line medical workers in Gaza.
Some Israeli lawmakers sought to condition the transfer of the doses on political concessions from Hamas, the Palestinian resistance faction that governs Gaza's internal affairs.
At the close of February, the Israeli military body COGAT announced that it would offer vaccines to some 130,000 Palestinians who work in Israel or its settlements.
Omar Shakir, a program director with Human Rights Watch, said that "vaccinating only those Palestinians who come in contact with Israelis reinforces that, to Israeli authorities, Palestinian life only matters to the extent it affects Jewish life."
There have been more than 200,000 confirmed cases of COVID-19 in the West Bank and Gaza, and around 2,250 deaths attributed to the disease.
Lebanon
Meanwhile, UN figures show that Palestinian refugees in Lebanon are three times more likely to die from complications of COVID-19 than the population in the country as a whole.
Nearly 6,000 Palestinian refugees in Lebanon have been infected with COVID-19 and around 200 have died.
A UN spokesperson said that health conditions aggravated by poverty and the cramped environment in refugee camps contributed to those deaths.
Palestinian and Syrian refugees are included in Lebanon's vaccine program.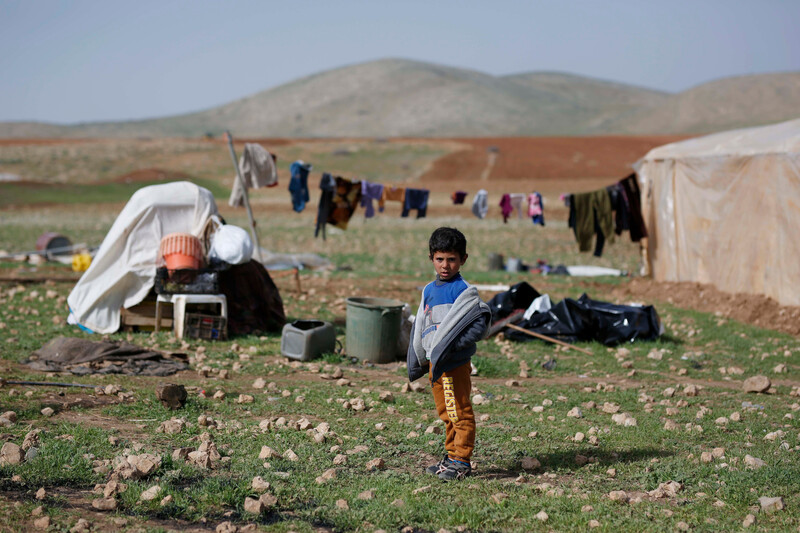 Featured Image: Israeli forces conduct a drill inside a community in the Massafer Yatta area of the West Bank on 3 February, causing damage to infrastructure, agricultural land and residential structures in an area where Israel has been try to expel Palestinian residents for decades. Keren Manor ActiveStills